Teosyal Product range
The Teosyal® range was launched in the UK in 2005 and is manufactured in Switzerland by Teoxane Laboratories and distributed in the UK by Lifestyle Aesthetics. It consists of several monophasic hyaluronic acid based products of non-animal origin, which are highly biocompatible, offering patients immediate results which last 9 months on average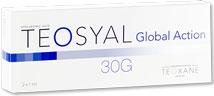 TEOSYAL® consists of a range of products which can restore facial volume, re-define and augment lips, repair cutaneous depressions and revitalise the dermis.
The types of Teosyal used are:
Teosyal Meso - Rehydration of the dermis
Teosyal First Lines - Surface wrinkles, crows' feet
Teosyal Touch Up - Medium wrinkles, all areas
Teosyal Global Action - Medium wrinkles, all areas
Teosyal Deep Lines - Very deep wrinkles: furrows, folds
Teosyal Kiss - Lip contour and volume
Teosyal Ultra Deep - Facial volumes, very deep wrinkles in thick skin
Advantages
Immediate and accumulative effect.
Four formulations ensure perfect results for different areas.
Re-hydrates skin tissue and delays the signs of aging
Lips appear full and plump
Less product required over time to maintain results
Optimal safety with no downtime
Excellent safety profile
Natural non-animal product, bio-degradeable, Lowered protein level
Less inflammation, pain and swelling on injection
Extremely Pure - 25mg/g, and easy to inject
Available in 86 countries worldwide
CE Marked
No pre-testing required
If there is a history of multiple severe allergies or collagen vascular disorders such as systemic lupus or a susceptibility to keloid scars, then the doctor will advise against using dermal fillers and hey should not be used in pregnancy or while breastfeeding. Side effects include redness, swelling, pain, itching, discoloration and tenderness at the injection sites. This normally settles within two-seven days depending on the site injected.
The choice of dermal filler requires careful consideration and is decided by the doctor at your consultation according to your skin appearance and the effect you wish to create. The amount of dermal filler used is dependent upon the degree of wrinkling and the site being treated. Sometimes a combination treatment may be recommended with botox.

The procedure is straightforward and takes approximately 30-45 minutes. The area is first numbed with a local anaesthetic cream or injection. The dermal filler is then injected in specific areas. Some mild redness or swelling usually occurs in the treated area. These effects typically resolve in two or three days. Rarely, the redness may last longer and there can also be some bruising. The cosmetic results are immediate and the effects last about 9 months.

If there is a history of multiple severe allergies or collagen vascular disorders such as systemic lupus or a susceptibility to keloid scars, then the doctor will advise against using dermal fillers.

In the UK we mainly aim for a "natural" look and avoid excessive treatment as most clients want a gradual improvement and to minimise the risk of swelling or bruising.

Costs
This depends on area treated, the specific product used and how much is required, in the region of: £350 per treatment syringe
Teosyal Global Action is the product most commonly used is suitable for mild to moderate wrinkles of the face; nasolabial lines, frown lines and periorbital and perioral areas.

Teosyal First Lines is recommended for the treatment of fine lines and superficial wrinkles (such as crow's feet).


Teosyal Deep Lines is a dense and voluminous implant used to treat deep nasal furrows, lip augmentation and the facial contours of the cheeks and jaw line. It is injected into the deeper layers of the dermis


Teosyal Kiss is highly viscous and boasts high filling power for the lips and designed for reshaping lip contours, increasing lip volume, treating wrinkles around the mouth, supporting lip corners and rehydrating the lips.

Teosyal Ultra Deep

.

It is injected into the deep-dermal layer and is the Teosyal range's densest product, achieving an immediate volume-boosting effect. It is designed for creating or restoring facial volumes, resculpting facial contours, treating deep wrinkles in thick skin,




Cautions:
Individuals with a known hypersensitivity to hyaluronic acid. Pregnancy and breast feeding. autoimmune disease, keloid scarring, multiple severe allergies

Duration of effect
This depends upon the degree of correction required, your age and lifestyle as well as the correct placement of the productr. Typically about 9 months


Patients from Peterborough Cambridgeshire , Stamford Lincolnshire , Uppingham Rutland Market Deeping Bourne Oakham Kettering are within easy reach of the clinic to access dermal filler treatments with Teosyal
.